Description
COLORFUL DOG PAINT BY NUMBERS KIT
As the saying goes, a dog really is a man's best friend. If this goes for you and you are an absolute dog-lover, then our Dog Paint by Number kits are the perfect thing for you. Our Animal Paint by Number canvases can spark joy and excitement into anyone wanting to combine their love for art with their love for our furry friends. 

Why a Dog Paint by Number Kit?
Whether you are a pug lover, crazy for rottweilers, or can't get enough of cute little puppies, there is the perfect Dog Paint by Numbers kits available for you. 
Our Dog Paint by Number kits provide hours of endless fun and relaxation that allow you to switch off from the world and create an artistic piece centered around a furry friend or beloved pet. They are the perfect way to unwind and relax after a particularly stressful day.
RELAX: Perfect to disconnect, research shows that creative activities like coloring and painting can significantly reduce stress.

HOME DECORATION: Create your own painting to decorate your home, even if you do not have great artistic skills. 

PERFECT GIFT: Make it unique – give an animal lover a dog painting for them to create and admire.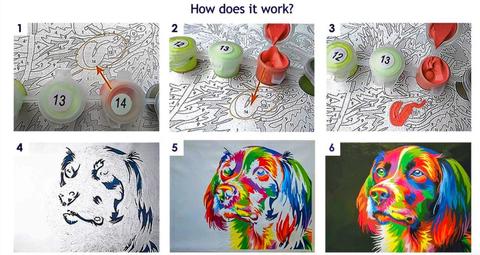 What Comes in my Dog Paint by Numbers Kit?
Our Dog Paint by Number kits contains:
High-quality canvas with light lines and numbers printed on it.

Corresponding numbered acrylic-based paint set.

Set of 3 paintbrushes in different sizes.

Some kits include canvas that is wrapped around a wood frame.

Colorful Dog Paint by Numbers Kit 
Just Paint by Number offers FREE WORLDWIDE SHIPPING, so get ordering today!
GIFT CARDS
Need a pre-paid gift card as gift? Click Here.