Description
Pug Paint by Number Kit
A Pug Paint by Number kit is the perfect way to create some seriously cute-looking art!

Why Choose a Pug Paint By Number Kit?
There are so many reasons why investing in a Pug Paint by Number kit is one of the best decisions you'll make. Aside from being an absolute dog-lover and creating a piece of art to reflect that, here are some of the other main reasons why a Pug Paint canvas is an absolute must:
Relax

: Perfect to disconnect, research shows that creative activities like coloring and painting can significantly reduce stress.
Home Decoration

: An easy way to create your own painting to decorate your home. 
Perfect Gift

: Make it unique with a one-of-a-kind Paint by Number Pug Dog canvas.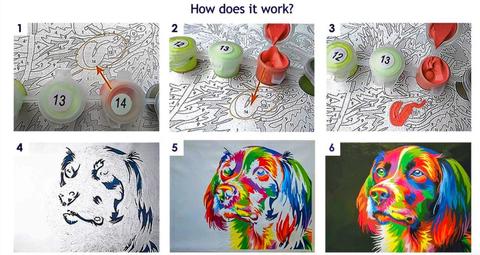 What Comes in My Pug Paint By Number Kit?  
Our Pug Paint by Number kits contains:
High-quality canvas with light lines and numbers printed on it.
Corresponding numbered acrylic-based paint set.
Set of 3 paintbrushes in different sizes.
 DIY wooden frame (if selected).

Free Worldwide Shipping!
Just Paint by Numbers offers FREE worldwide shipping, so there's really no better time to get your Paint by Number Pug Dog kit!