Though you may have heard all about paint by number kits, you probably didn't know that there's such a thing as paint by numbers for kids. There are many benefits of paint-by-numbers activities, like keeping them quiet and entertained for more than ten minutes! But, it does more than just keep your little ones busy. Painting by numbers promotes early development in seven ways – which we've outlined in this blog.
Kindles Creativity
First and foremost, paint by numbers kits for kids are a godsend. Not only does it keep them busy when you need them to be on their best behavior, but they also kindle creativity. Children have some of the best imaginations, especially when it comes to arts and crafts. Hand them a paintbrush and some paint, and their imagination can run wild. And that's all any child wants. To do something fun. Who knows? Maybe you'll hang their paint by numbers on the wall for years to come. You'll be bursting with pride.
Improves Hand-Eye Coordination
Matching colors to numbers seems like a painless task to adults. But, for children, it takes all their concentration and energy. They become so focused on getting the right color to the matching number, it can feel like they've climbed a mountain on their own when they get there. Caught up in the moment, many parents don't realize how painting by numbers activities can improve their little one's hand-eye coordination skills. They might need a little nudge in the right direction at first, but once they know what they're doing, they'll be showing the rest of daycare how it's done.
Encourages Bonding and Friendship Making
Bonding and making friends is a huge part of early child development. You see other kids making new friends and sharing toys, or working together as a team, and you want the same for your own kids – it's only natural to want the best. Paint by numbers kits for kids are quite something else. To start with, pick easy paint by numbers for kids and find something they can work together on as a little group. And if you don't know where to buy paint by numbers for kids, you're in the right place.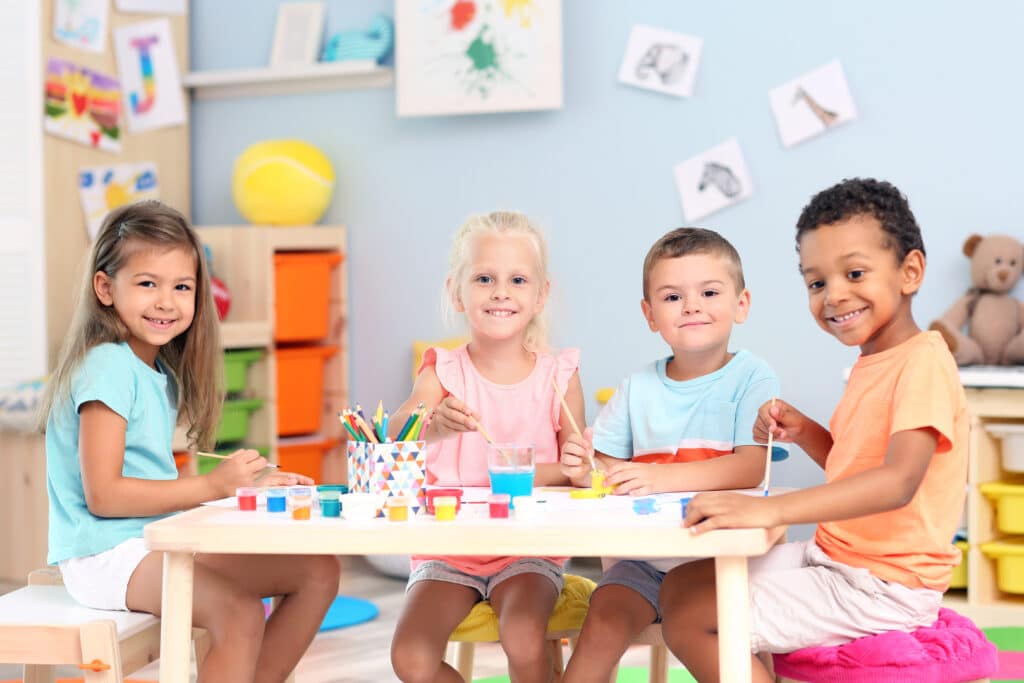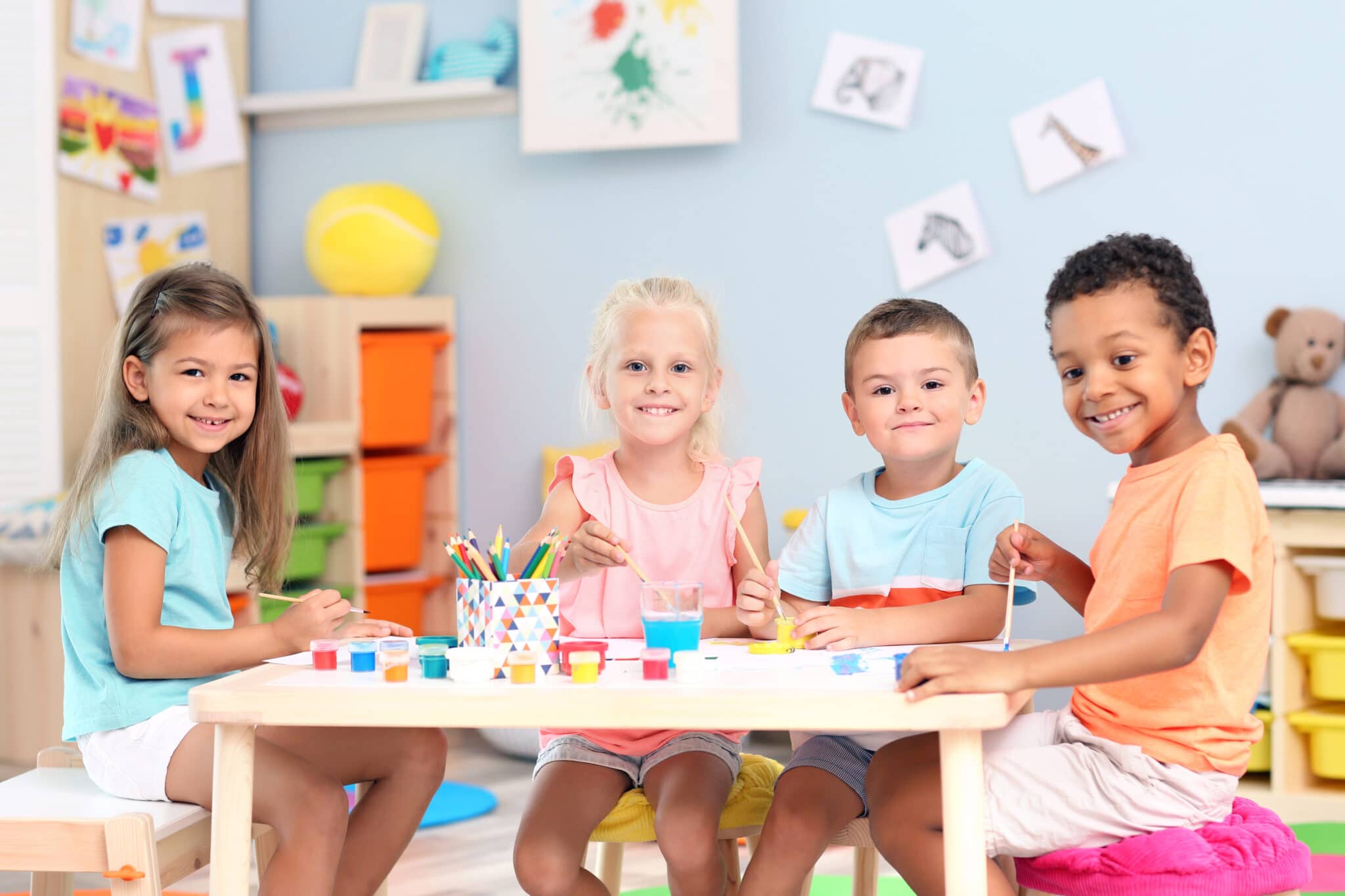 Nurtures Ability to Count and Color Coordinate
Counting and color coordinating is something they teach kids in daycare, but you should also work on them with your little ones when they're at home. You can try things like asking them how many eggs are in the egg house and counting with them. Then ask them what color the eggs are. This is a super simple way of nurturing their ability to count and know their colors. But, if you're looking for something that's sure to spark their interest, buy them an easy paint by numbers for kids.
These normally feature bigger sections, so they're easier for your little ones to add color to. Plus, they generally have around ten little paint pots, so counting to ten can be easy and fun all in one. You can do one better and pick colors they've shown an interest in before, so they're more likely to engage in the painting by numbers activity.
Keeps Them Happy
While they're busy painting and matching the right colors to the sections, they're sure to be happy. Painting is something all kids enjoy. It's messy, bold and they get to have fun while they learn. Most kids don't even know they're learning and developing their skills with a paintbrush at hand – and that's the best part. By taking an interest in something, they'll want to do it again and again. This means you get more time to help them develop. Not only that, but you'll get to feel like the world's best mom or dad, seeing their face light up with every brush stroke.
Counting to Ten with Confidence
Even creative kids paint by numbers normally come in tens. Ten sections, and ten little paint pots. Counting to ten is a big part of every child's personal development, and some even struggle with numbers up to the age of four or five. But, you can help them get an early start with something as simple as painting.
Starting with number one, help them work their way to ten and ask them what number they have while they're painting to see if they remember what you told them. If they get it right, don't stop there – keep practicing with them. Then, when they go to daycare, they can show off what they've learned and who knows? Maybe they can even help their friends do the same.
Feeling Proud of Something They Did
Give them something creative to get on with and kids will always feel super proud of what they've achieved. Creative kids paint by numbers activities are sure to give them something to feel proud of, but more importantly, something to show off to their friends and family. As a parent, there is no better feeling than seeing your kids happy and proud of something they did. The painting kit even comes with a DIY wooden frame. So, you can keep their artwork on show for all your guests.
Things All Kids Paint by Number Kits Should Have
Hold your horses! Before looking for paint by numbers for kids, you need to know what the kits come with (as a standard) and what additional tools you'll need. Here's what you should look for in the best kit:
Kids paint brush/brushes
Small, easy-to-read paint pots
Pre-drawn kids picture with large sections
Frame to hang their painting on the wall
Picture of what the end piece should look like – they don't have to use this, you can let their imagination run wild.
Painting/messy play apron – not normally included in kits, but they'll definitely need one!
Keep these in mind when shopping for paint by numbers kits for your kids. This list will help keep things nice and easy for them, so they can really enjoy their time painting and having fun. No stress, no tantrums. Just quality time with your little one, painting by numbers.
Where to Buy Paint By Numbers for Kids
Fortunately, you can buy paint by numbers kits in lots of places, even your local grocery store. But, if you don't fancy taking a trip to the store or you'd prefer to order online, there are also lots of alternative places to buy them. For example, Just Paint By Number has an entire range of children's kits available on their website. You can choose from super-easy to medium-difficulty paintings for your little ones, without breaking the bank. Plus, buying online is generally cheaper than buying in-store. So, what are you waiting for? Go pick out your favorite Just Paint By Number children's kit before it sells out.